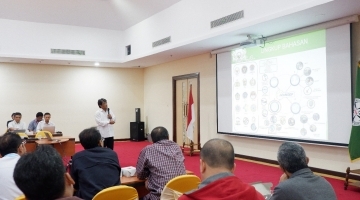 Located at the BAPETEN Auditorium, on Wednesday (01/08/2020) Directorate of Technical Support and Nuclear Emergency Prepareednes (DK2N) held a Dissemination and Coordination Development of the Decision Support System (DSS) in Indonesia.
The activity, which was attended by the Chairman of BAPETEN and Head of BAPETEN's units with their staff, aims to follow up on BAPETEN's visit to the Geospatial Information Agency (BIG) in Cibinong Bogor on 29th Nopember 2019.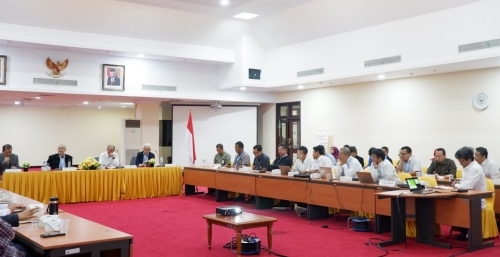 In his remarks, the Chairman of BAPETEN Jazi Eko Istiyanto supported the use of new technology in the nuclear surveillance system and welcomed the realization of BAPETEN GO GEOSPASIAL 2020 to be used by all units in BAPETEN.
This event presented information sharing to all work units regarding the Implementation of the Indonesia Radiation Data Monitoring System - Nuclear Early Warning System (I-RDMS-NEWS), RODOS as a Decision Support System (DSS) and the use of the Geospatial Information System (GIS - BAPETEN) for supervision of nuclear power utilization in Indonesia (dkkn / aditia / bhkk / bsb).